Germanna Conference in Kentucky July 20, 2011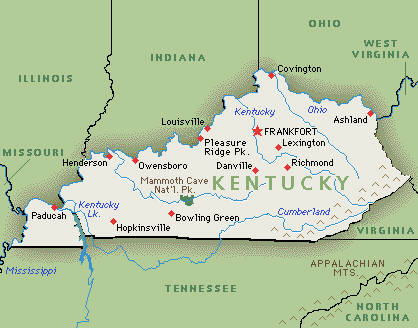 Kentucky is the home of some fascinating history, including much related to Germanna.

Plan on attending the Kentucky Germanna Conference. GRG will be represented by Ginnie Nuta at the Kentucky Conference.

Please join us on July 20, 2011 for a day in celebration and learning about the Germanna settlers who migrated to Boone County, Kentucky.
All are welcome!
The Registration Form and Agenda for this event can be found at
www.boonegermanna.com
---------------------------------------------------------------
Leaving Virginia for the Hinterland (Kentucky) - October 1805
The below list of Germanna individuals who migrated to Kentucky was transcribed and translated from the Original German Church Records and is published on page 36 of the book :
"Hebron Communion Lists" of the Hebron Lutheran Church
in Culpeper/Madison Counties Virginia 1775 to 1882"
by Andreas Mielke and John Blankenbaker; 2003, being the second and enlarged edition.
3 Oct 1805
All persons about to move to the hinterland (Kentucky)
Johann Willheit wife Elisabeth
Georg Rausch wife Elisabeth
Polly Zimmerman
Johann Rausch wife Nancy
Friederich Zimmermann wife Rosina
Abraham Crigler wife Lyddia
Ephraim Tanner wife Susanna
Johann Hauss wife Milly
Jacob Tanner
Elisabeth Hofmann
Margret Carpenter
This Germanna group left Madison County, Virginia and traveled to Boone County, Kentucky by way of wagon possibly through the Cumberland Gap. The group was said to consist of George Rouse, Elizabeth Rouse, John House, Milly House, Frederick Zimmerman, Rose Zimmerman, Ephraim Tanner, Susanna Tanner, John Rouse, Nancy Rouse, and Elizabeth Hoffman.
They are said to have arrived in Boone County, Kentucky on November 25, 1805. The greater part of northern Kentucky was little more than a wilderness when they settled here in Boone County. At this time, Burlington, the county seat of Boone County consisted of a few log houses, a log court house, and log jail. The town of Florence did not exist at this date. Across the Ohio River, Cincinnati consisted of two brick houses and two frame houses.
Here in Boone County, Ky, they founded the Hopeful Lutheran Church. The first worship services were held in 1805, with the first congregation being organized on Epiphany Day, January 6, 1806. Other German families from Virginia followed.
Hopeful Evangelical Lutheran Church is the oldest Lutheran Church west of the Allegheny Mountains.
So mark July 20, 2011 for a day in celebration of our Germanna heritage and the Germanna migration to Kentucky.
To register for this event: CLICK HERE
Below is a brief Agenda and Registration Fee information
July 20, 2011
Morning Activities held at Hopeful Lutheran Church, 6430 Hopeful Church Road, Florence, Ky
Registration Fee includes Lunch $25.00
Afternoon Activities offer choice of 3 local field trips
– No Registration Fee
Banquet Dinner – See Registration Form for price choices
Limited to first 100 persons registered ~ Registration
Deadline June 15, 2011
8:15 am Check-in and Welcome Bag Pickup
8:45 am Welcome and Opening Prayer in the 1917 Sanctuary with its magnificent stained glass windows
9:30 am A History of Hopeful Lutheran Church presentation by speaker Rev. Dr. Charles Aylor
10:45 am Boone County's German Colony, The Early Settlers of Hopeful Lutheran Church presentation by speaker Michael D. Rouse
12:00 pm Box LUNCH catered and served at Hopeful Lutheran Church
1:30 pm
Choice of 3 afternoon activities :
1. Tour of Hopeful Lutheran Cemetery and other localGermanna Family Cemeteries
2. Tour and Presentation of pictures and research materialsat Boone County Public Library
3. Tour of Boone County Courthouse basement records
6:00 PM Banquet Dinner held at the restored 1822 restored ErastusTousey House, Burlington, Ky. for first 50 registered as maximum occupancy is 50 persons