The German Corner
---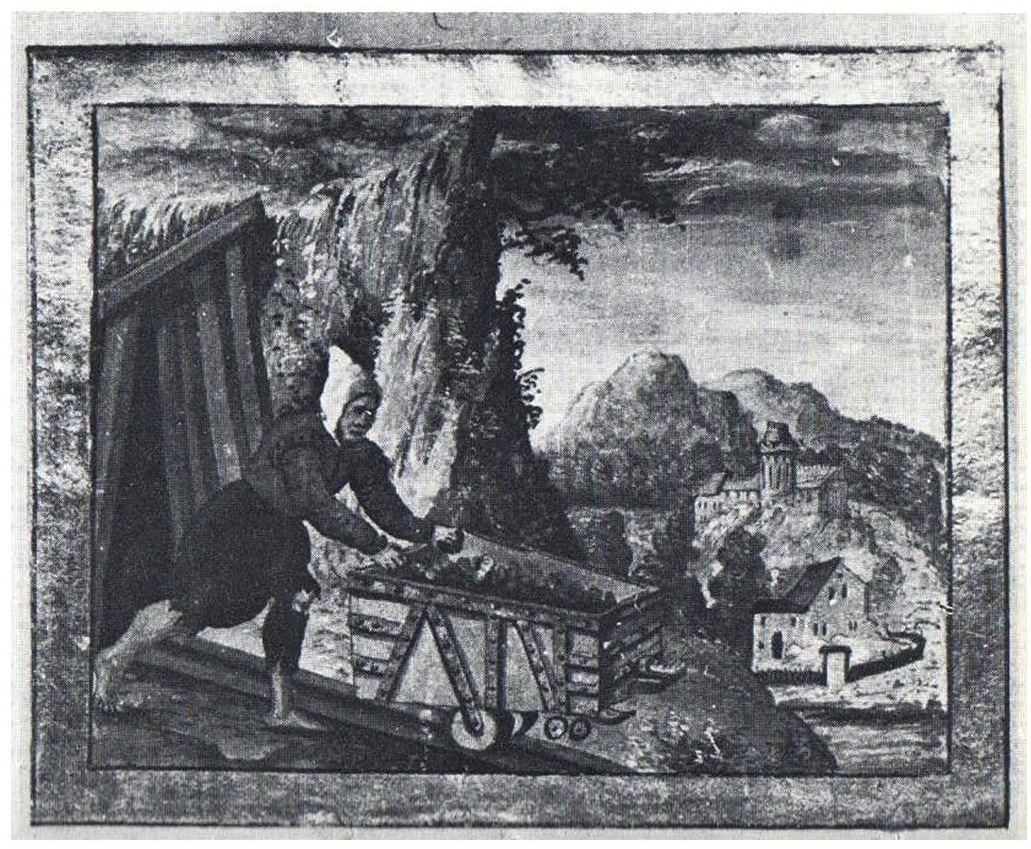 What is the real history of the German "miners" coming to Virginia?
by Andreas Mielke
[German Document # 1; Transcription of Albrecht's Dotation.]
The laudable genealogist John V. Blankenbaker called the mining captain Johann Justus Albrecht, the leader of the "miners" who ended up in Fort Germanna, a con man. This appears to be correct on first glance, or at least understandable.[1]
Alternatively, the mining captain's claim to be in the service to Her Majesty the Queen was correct when understood as a reference to his presumed direct employer, the widely-traveled Swiss explorer Frantz Ludwig Michel who in 1710 became William Penn's director of mines in Pennsylvania.[2] Differences notwithstanding, Quaker Penn was, of course, also the Queen's subject and thus in her service.
Penn's Pennsylvania was exceptionally well known in interested German circles, especially after the Quaker's visit in Germany and the founding of Germantown in 1681 (now part of Philadelphia). Numerous subsequent solicitation efforts of Penn followed. Carolina, in contrast, was mainly and nearly exclusively known through three 1709 editions of Kocherthal's [Pastor Josua Harrsch's] Ausführliche Beschreibung... von Carolina, the Extensive Description of Carolina.[3]
About Virginia in contrast, the province in which Albrecht's poor "miners" ended up in 1714, little was known in Germany besides that it produced tobacco. Before Geörg Ritter's Swiss lobbyist Christoph von Graffenried sent the "miners" to Virginia in 1713, it would seem that there was absolutely no connection between the "miners" and the state to which the desperate and bankrupt Graffenried "forwarded" them. Surely, Lt. Governor Alexander Spotswood did not invite any Germans, although he knew how to make good use of them after they had arrived in Virginia.
Unfortunately, the letters Graffenried in his Account[4] claims to have written to these "miners," warning them to delay traveling, are not extant. Given Graffenried's ease in which he confuses facts and fiction, it would not be surprising to learn that these letters never existed. Whom would Graffenried have known in Nassau Siegen? Whose address would he have used?
In Todd's edition of Graffenried's Account [online] is a version of a business contract that clearly shows Michel's mysterious mines to be an exclusively Pennsylvania matter. Graffenried stated that Michel went to Holland to consult with mining captain Albrecht. A likely time for this was April 1710, when Michel met his partner Geörg Ritter and his deported Mennonites and Bern paupers. In August 1711, Albrecht promised riches to the Siegen clergy, obviously with the intent to find support in his search for miners willing to join him for America.[5] And in the summer of 1713,these German "miners" found themselves stranded in London. From here the desperate Graffenried diverted them to Virginia where they arrived in or before April 1714.[6]
The following is a transcription of the original German promise Johann Justus Albrecht offered to the clergy of Siegen:
Alldieweilen es die allweÿse Vorsehung Gottes gefüget, daß
Ihro Königl[iche] Majestät von Groß Brittannien p.p. und die
H[ohen] H[erren] Proprietaires und Gouverneurs in America, alß
in Carolina, Virginien und Pensÿlvanien, auch übrigen
Provincien Bergwerckere uff goldt, Silber undt
andere Metallen uffrichten zu laßen, allergnädigst
und respec[tiv] gnädig entschloßen; Und dan ich endts=
unterschriebener Johann Justus Albrecht in
Höchstg[eehrte]ster. Königlicher Majestät und g[eehrte]ster H[erren] Proprietaires
diensten stehender Berghauptman ein solch werck
Zu vollen Ziehen= und in standt zu bringen nicht
allein Erblich veraccordiret, sondern bereits durch
Gottes genadt und segen darmit einen guten
Nachdeme es aber mir an arbeitsleuten und
darzu notig brauchenden Instrumenten sehr ge=
mangelt, so habe mich in Teutschlandt umb
solche machen zu lassen, und zwar in der Hoch
Fürstl[iche] Residentzstatt Siegen in der Naßaw,
eine gute Zeit auffgehalten, da ich dann
inmittels glaubhafft berichtet worden, daß
die in ged[achter] Statt Siegen beÿ der reformier=
ten Gemeinde stehende dreÿ Prediger sich
Kümmerlich mit den Ihrigen durchbringen
müsten. In anseh- und betrachtung dessen,
auch der Liebe zum Wort Gottes, habe ich Johann
Justus Albrecht obg[edach]t beÿ mir beschloßen, und
es ist mein freÿ= und wohlbedachter ungezwun=
gener Wille, daß vorg[edach]te dreÿ Statt Predigere
ins Künfftige, so bald die Bergwercker im
stande seyn und Gottes Segen erlangen werden,
Jährlichs= und ein Jedes Jahr besonders, dreÿ
hundert fünfftzig rthr. [Reichsthaler] ich sage 350 rthr. species
auß obg[edachten] Bergwerckern nahmens mein
und meiner nachkommen haben und geniesen sollen.
Jedoch also und dergestalt, daß dem Jetzigen Ober=
Predigern Herrn Johannes Daniel Eberhardi lebens=
lang darvon Ein Hundert und fünfftzig r[eichs]thaler [p.2]
in speciebus, und desen Frauen Liebsten, nach Ihres
Ehe Herren todt, so lange sie wittib bleiben wird,
Ein Hundert rthlr, die übrige Zweÿhun=
dert rThaler aber denen andern Zweÿ
Statt Predigern, Jedem zur Halbscheidt jährl[ich] gelief=
fert, nach deren todt aber Ihren wittiben, so
lange sie wittiben sind, und zwar einer
Jedweden fünfftzig rthlr.[?] g[edach]ter species zuge=
zahlet werden sollen. Nach absterben vor...[?]
wohlg[edach]ten H[errn] Ober Predigers Eberhardi und
so desen Frau liebste Ihren wittiben standt
versetzen oder sterben würde, sollen die von mir
verordtnete, und alß ein freÿe gabe
und beÿsteuer geschenckte 350 rthlr. species
unter die alßdan im Ambt stehende dreÿ
reformierte Statt Predigere zu dreÿ
gleichen theilen ohne den geringsten abgang
getheilete nach deren todt aber Ihrer wittiben,
so lange sie wittiben bleiben, die halbscheidt
des g[edach]ten dritten theils Jährlichs gehandtreicht
werden; Welche Handtreich oder überliefferung
aber Niemand anders alß ein Ehrwürdiges
Presbiterium beÿ offtged[achter] reformierter Gemeinde
zu Siegen Jederzeit und Jährlichs verrichten soll.
Hingegen werden Sie auch, sambt und sonders,
eine beglaub[ig]te quitung unter Ihrer Handt
und Siegel nacher Franckfurt am Maÿn,
dahin die vorg[edach]ten 350 rthlr. species JederZeit
freÿ gelieffert werden sollen, ohnnachläßig ein=
Zu schicken, ahngewiesen. Falß aber diese
vorg[edach]te meine gütliche Donation und mir
beliebte Verordtnung in einem oder dem an=
deren puncten übertretten werden sollte,
Solchen falß behalte mir hirmitt expressè vor
diese meine freÿwillig gethane Donation,
nicht allein nach meinem gefallen zu mindern, sondern [p.3]
auch gar uff zu heben; Sonsten aber soll
diese meine Donation und Verordtnung nicht
allein beÿ meinem leben, sondern auch nach
meinem Todt zu ewigen Zeiten von all
meinen Nachfolgern stete und fest gehalten,
auch deßfalls denen Berg-Ambtsbüchern
in America beÿ denen Berg-Ambt in Jeder
Provintz befindlich, von mir einverleibt
werden.
Zu der mehrer Festhaltung und beglaubigung
dieser meiner güt- und freÿwilligen
Donation und Verordtnung, habe ich dieselbe
durch nachg[edach]ten Kaÿserl[ichen] Notarium nicht al=
lein in duplo verfertigen, sondern auch
unter meiner eygenhändiger subscription
und besiegelung durch die darzu erbettenen
H[ohen] H[erren] Zeugen mit unterschreiben und besieglen
laßen; geschehen Siegen den 15ten Augusti
Anno Christi 1711.
L. S. Johann Justus Albrecht Berg Hauptman
L. S. Adolph Diesterweg als ein erbettener Zeuge
L. S. Johannes Manskopf als ein erbettener Zeüge
L. S. Georg Wilhelm Moritz als ein erbetener Zeuge
L. S. Pantel Becker als ein erbettener Zeüge
L. S. Hanß Henrich Wurm alß ein erbettener Zeüge
L. S. In fidem praemissorum requisitus
scripsi et subscripsi atque absignavi
Thomas Weidman , Imp[eriali]
auth[oritate] Notar[ius] Publ[icus] m[anu] p[ro]pria.

Transcribed by Andreas Mielke and Sandra Yelton, Summer 2013
[Words in italics are in Latin script within the German script.]
More transcriptions of original documents will be published in our forthcoming book on Fort Germanna.
---